Press Release #46/2019-20
FOR IMMEDIATE RELEASE: April 1, 2020
Contact: David Mustonen, Communications Director
(313) 827-3006 mustond@dearbornschools.org
Dearborn Schools will hold virtual board meeting
Dearborn Public Schools will hold a virtual board meeting on Monday, April 13, in compliance with Gov. Gretchen Whitmer's Stay-Home, Stay Safe order.
Board members will use cameras and microphones to connect to the meeting from their homes. The public can watch the meeting live via the District's YouTube Channel at https://youtube.com/user/dpscommdept. The meeting will also be on the District's Facebook page. A form allowing members of the public to submit comments to the board during the meeting will be posted online at noon on April 13. The link will be available from the District's news website at http://firstbell.dearbornschools.org.
"We are hoping this virtual format will still allow the Board of Education to conduct important business, such as approving the payment of bills, while keeping everyone safe and allowing our citizens to watch and participate, if they want," said Board President Hussein Berry.
The April Board meeting will follow a more streamlined format with fewer presenters. The meeting begins at 7 p.m.
Currently, schools are set to reopen on Tuesday, April 14, the morning after Gov. Whitmer's shelter-in-place order expires. The Governor has said she is considering extending the school closure, but has not yet made any official announcements about when, or if, students will return this year.
For the latest information regarding Dearborn Public Schools, including issues related to COVID-19 and our response, please visit http://firstbell.dearbornschools.org.
###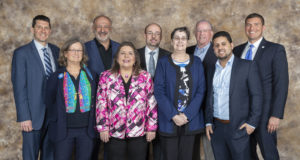 PR 46 Dearborn Schools virtual meeting – The Dearborn Public Schools Board of Education will hold a virtual board meeting on April 13. The public is invited to watch on the District's YouTube Channel. Officials for Dearborn Public Schools and the Henry Ford College include, from the left, Dearborn Schools Superintendent Glenn Maleyko, Board Secretary Mary Lane, Board President Hussein Berry, Board Treasurer Roxanne McDonald, Board Vice President Jim Thorpe, Trustee Mary Petlichkoff, Trustee Michael Meade, Trustee Adel Mozip and Henry Ford College President Russell Kavalhuna.