Press Release #39/2019-20
FOR IMMEDIATE RELEASE: March 2, 2020
Contact: Summer El-Mubarak, Career Academy Lead Teacher, Edsel Ford High School
(313) 827-7296 elmubas@dearbornschools.org
David Mustonen, Communications Director
(313) 827-3006 MustonD@dearbornschools.org
Free speaker helps students to be career ready
Dearborn Public Schools middle and high school students and their parents are invited to a lively presentation from a nationally known speaker connecting the dots between education and career success.
The talk, titled "Why Should We Hire You? Turn Learning Into Earning!" helps draw connections between decisions students make today and their college and career success tomorrow. The presentation will be held on Thursday, March 12, from 6 to 7:30 p.m. at Edsel Ford High School, 20601 Rotunda.
Brooks Harper's high-energy, amusing presentation has made him one of the top career readiness speakers in the country. The talk will look at why every day is an interview and an opportunity to turn learning into earning. The presentation also will encourage students to discover, develop, network and sell their skills and abilities and to show that they can bring tangible value to the workplace. Other themes include discovering the power of gratitude and learning to manage stress and avoid burnout.
The presentation is being sponsored by the Academies of Dearborn. All three traditional high schools in Dearborn Schools now use the academies model to encourage students to start exploring career fields while still in high school. The Academies of Fordson started a few years ago, and Edsel Ford and Dearborn High started their programs with this year's freshmen class. The talk is open to all Dearborn Public Schools high school and middle school students and their parents or guardians.
Edsel Ford High School is providing a school bus to transport students and parents from Salina Intermediate at 5:30 p.m. to the high school for the program and back to Salina at 7:30 p.m.
###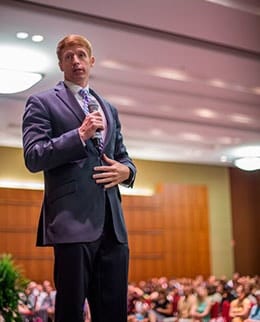 PR 39 Brooks Harper – National speaker Brooks Harper will talk to Dearborn Public School students and parents to help youth make the connection between education and careers during a free presentation on March 12 at Edsel Ford High School.