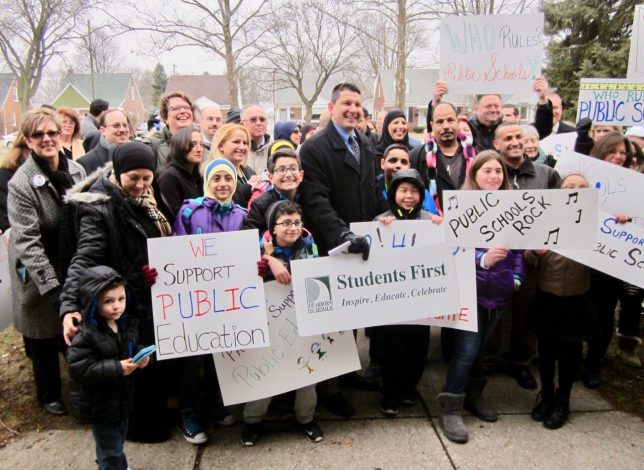 Click here for a link to a story in the Dearborn Press and Guide on this Event. 
We had an outstanding Unity Event on January 19 in Support Of Public Education. This event was promoted by the American Federation of Teachers, the Dearborn Federation of Teachers, the PTA Council in Dearborn, and Dearborn Public Schools. Parents, students, staff members, and community members gathered to show they are united in their support for public education. The event is part of a national day of action.  A special thank you to the following speakers who did an outstanding job, Mayor O'Reilly, Board Secretary Petlichkoff, MFT president David Hecker, DFT President Chris Sipperley, PTA Council President Nofila Haidar, and a member of the Superintendent's Student Advisory Council Maya Lewey.
This activity coincides with similar efforts taking place across the country on that day to show support for public education in the United States. Organizers also wanted to call attention to the fact that schools must remain centers of learning that are protected against threats of bullying and racism. In addition, it is important that policymakers increase the investment in public schools and protect Title I funds, federal dollars that are critical in supporting the education of students who are most at risk of not being successful in school.
"Public education is a cornerstone of our democracy. The unity and positive relationships we have built with our unions, parents, and communities have brought about a great deal of student success in Dearborn. We look forward to joining with our partners to show our continued support for public education", Dearborn Public Schools Superintendent Dr. Glenn Maleyko.